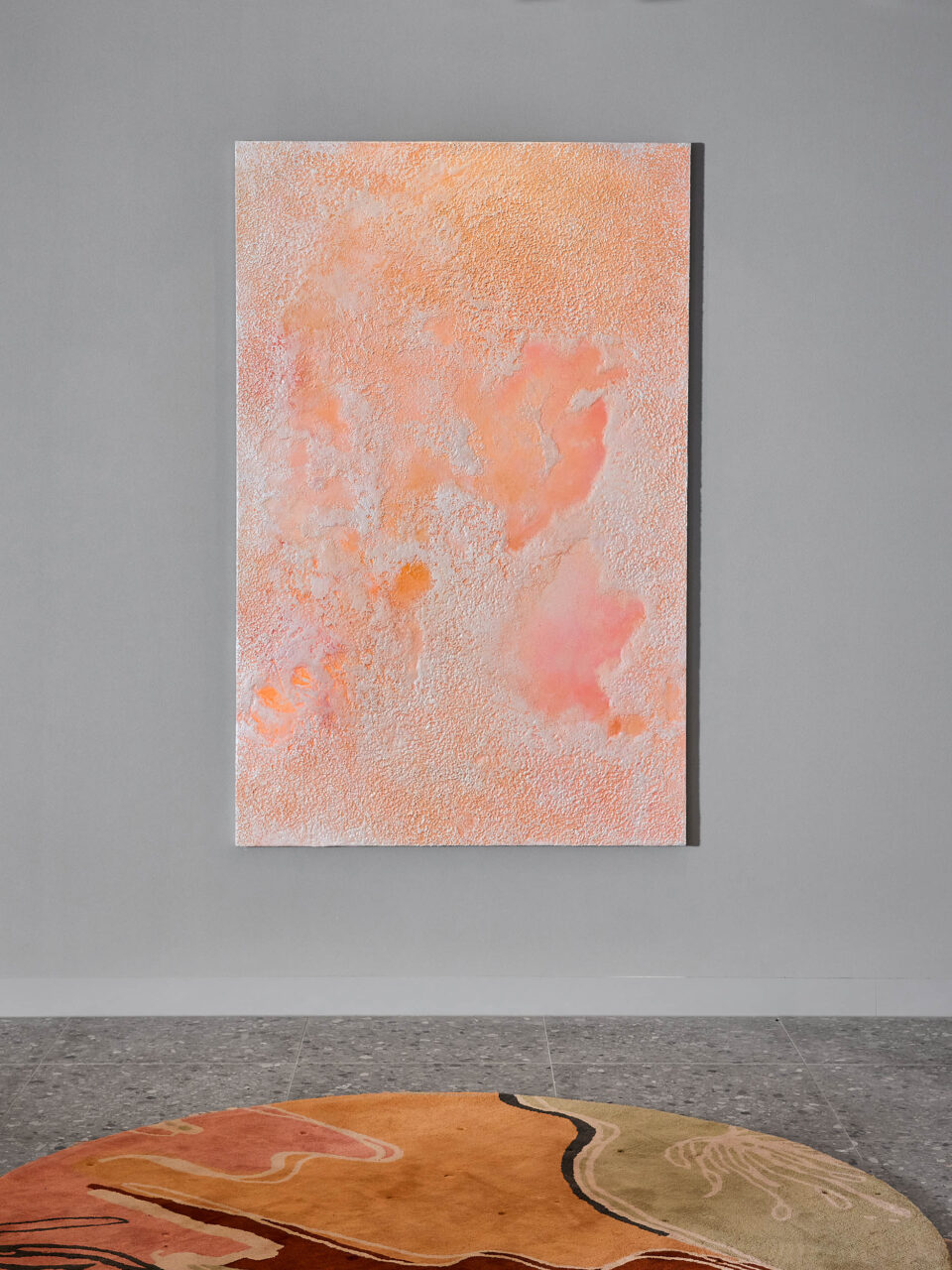 Ash Keating
Duality (Aerial #6)
Melbourne-born visual artist Ash Keating has exhibited extensively in galleries and created numerous large-scale, site-responsive art projects in Australia and internationally since 2004.
Keating is most notably recognized for his impulsive and exuberant style, attributed to the repurposing of fire extinguishers to paint. His practice has attracted significant attention in Australia, winning the Incinerator Art Prize (2015), Guirguis New Art Prize (2013) and Substation Contemporary Art Prize (2012), and his works are held in many public and private collections including the NGV, NGA, MCA, AGNSW, MUMA and Artbank.
Since 2015 Keating has developed a specialised methodology for creating atmospheric compositions for his ongoing series of studio paintings titled 'Gravity System Response'. He applies paint to the surface of linen through an airless sprayer, and augments areas by erasing or breaking down the paint through the application of water. The effect is not only that of running and dripping paint, but the replication of natural systems found in the environment.
Keating has undertaken numerous large-scale painting commissions both in the studio and in outdoor public spaces of significant scale and note.


Duality (Aerial #6) is part of the Home Art Collection
At Home, we believe in the power of art. The Home Art Collection is created to enrich our spaces and the lives of our residents. Featuring the diverse stories and perspectives of emerging and established Australian artists, the collection includes painting, sculpture, photography, and digital art both commissioned and acquired. Designed to create moments of reflection, beauty, and inspire curiosity and conversation, the Home Art Collection, like a well-curated home, will grow and evolve over time.

Located in some of Melbourne and Sydney's most desirable neighbourhoods, our expanding portfolio of rental communities gives us a platform to build a unique Australian collection. Developed by Home and our curatorial collaborator Craft, the Home Art Collection will be supported by a dynamic in-building art program that will include artist talks, events, masterclasses, and workshops.